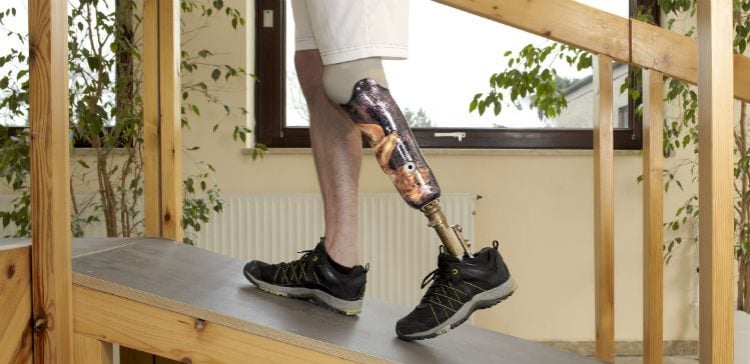 At CFG Law we keenly follow new developments in technology which can bring greater independence to our seriously injured clients and improve their quality of life.
Amputation is a life changing injury and previously prosthetics have been very expensive, some costing upwards of £20,000.
However, we were very interested to read about the UK winner of the James Dyson Award, 25 year old graduate Joel Gibbard and his company Open Robotics.
Joel has the chance to change the lives of thousands of amputees literally in the palm of his 'bionic' hand, thanks to the technology he has developed which allows him to 3D-scan an amputee and then build them a custom-fitted socket and hand in less than two days.
Joel's design is created using 3D printing technology and would cost the amputee just £2,000 for a hand which is so technologically advanced, that the wearer can handle objects as fragile as an egg without breaking them. It is an innovation which could mean greater independence for thousands of people, particularly children who require their prostheses to be changed frequently as they grow.
"By using rapid prototyping techniques, Joel has initiated a step-change in the development of robotic limbs," James Dyson, the British inventor behind the award, said in a statement. "Embracing a streamlined approach to manufacturing allows Joel's design to be highly efficient, giving more amputees' access to advanced prosthetics."
Joel's innovative design uses 3D printing techniques. First, the arm is scanned and then a hand can be custom printed to fit exactly. The hand works using myoelectric signals, meaning it detects muscle movements via sensors stuck to the owner's skin and uses them to control its grip. In basic terms, as a user flexes muscles in their upper forearm, messages are sent to the robotic hand to move and grip accordingly.
Open Bionics started as a bedroom-based crowd funding project in 2013, supported by Bristol Robotics Laboratory. The original design has been revised 10 times; radically reducing the number of parts required.
The process is now so effective that Open Bionics can assess a user in minutes using a tablet equipped with a special sensor, print the parts in about 40 hours, and then fit them together in just two hours.
Joel commented, "The original design was primarily made of different plastic parts that were screwed and bolted together along with off-the-shelf components. It took a very long time to build, and because it was all made of plastic it was subject to a lot of weak points where it could break.

"The new design is made of thermoplastic elastomer, which is basically a flexible rubbery plastic. So, we're able to print something in far fewer pieces and then have flexible joints. That means it's much more robust to impact forces and it requires much less assembly, so there are savings in cost, time and improvements in performance."
Such advancements prosthetics are really exciting. In addition to winning the James Dyson UK Award, Joel has also won a raft of other awards including the Limbless Association's 'Prosthetic Innovation of the Year Award' 2014.
Philip Coulthurst, Head of Serious Injury at CFG Law has been particularly impressed by these advances in prosthetics, "As a serious injury solicitor, I am always interested to learn of new technology such as the Open Bionics robotic hand. Amputation clients often find their lives altered drastically with a huge loss of independence. It is inspiring to see engineers working on concepts which will improve the quality of life for so many people. We will certainly follow the development of this particular technology with great interest."
We are catastrophic and serious injury solicitors who provide legal advice together with financial, physical and emotional support.
When serious injury turns your world upside down, we pull together with you and your family to get your lives back on track.
Call today on 0800 988 7022 or fill in our online enquiry and one of our dedicated team will call you back.